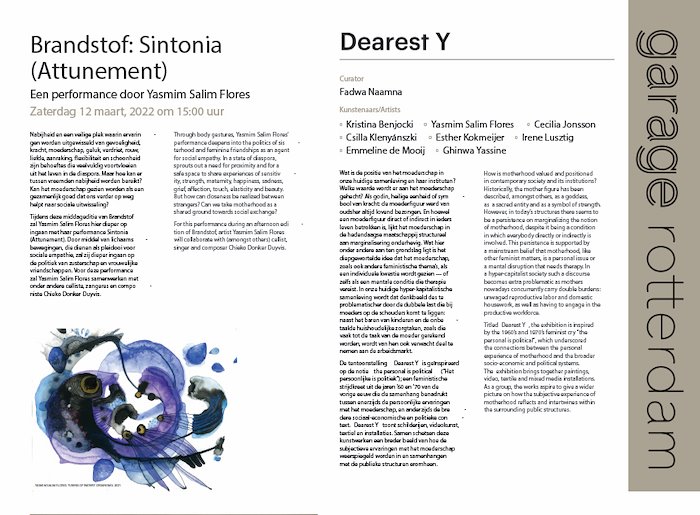 Upcoming exhibition!
Dearest Y
5 February- 17 April 2022
How is motherhood valued and positioned in contemporary society and its institutions? Historically, the mother figure has been described, amongst others, as a goddess, as a sacred entity and as a symbol of strength. However, in today's structures there seems to be a persistence on marginalizing the notion of motherhood, despite it being a condition in which everybody directly or indirectly is involved. This persistence is supported by a mainstream belief that motherhood, like other feminist matters, is a personal issue or a mental disruption that needs therapy. In a hyper-capitalist society such a discourse becomes extra problematic as mothers nowadays concurrently carry double burdens: unwaged reproductive labor and domestic housework, as well as having to engage in the productive workforce.
Titled Dearest Y, the exhibition is inspired by the 1960's and 1970's feminist cry "the personal is political", which underscored the connections between the personal experience of motherhood and the broader socio-economic and political systems.
The exhibition brings together paintings, video, textile and mixed media installations. As a group, the works aspire to give a wider picture on how the subjective experience of motherhood reflects and intertwines within the surrounding public structures.
Curator: Fadwa Naamna