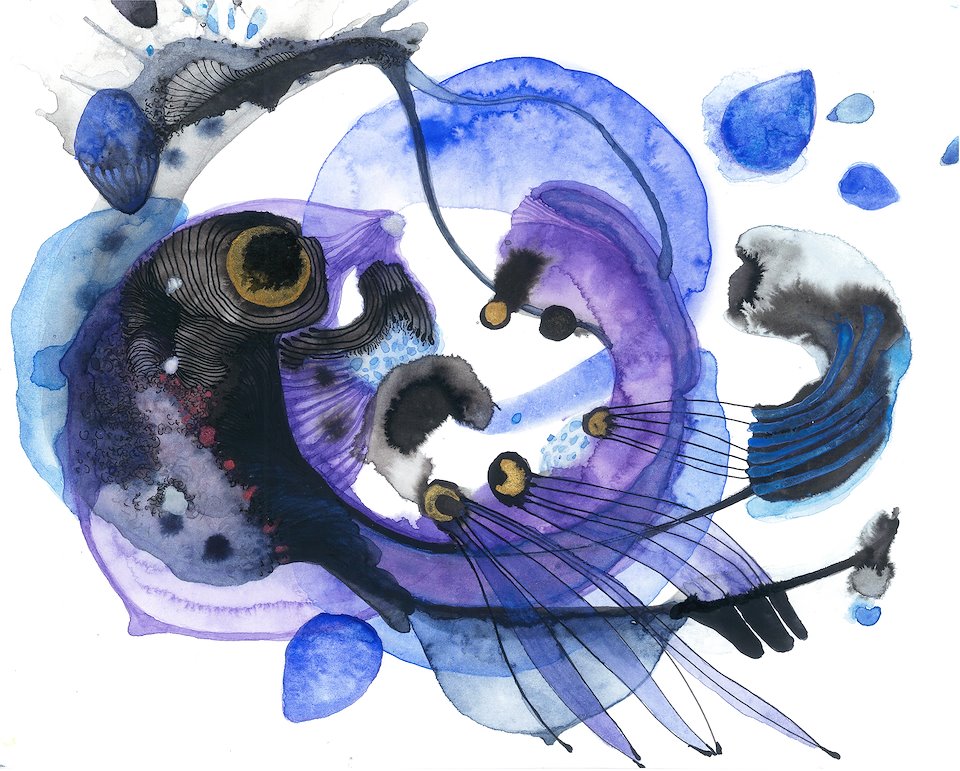 POETIC ELEMENTS OF WATERCOLORS
The paintings are abstractions of an inner, subjective world.
The interior of a body, its organs and all its internal connections, in the union of the flows that run through the veins, and pulsate the contention and the expansion of the organic movements that refer to the forms of nature.
Some watercolors even refer to fanciful and surreal worlds that develop due to the imagination of the user. In the process of creating the painting, a future dialogue with the recipient is reserved.
My work is situated on a threshold between what is predictable and what is unpredictable, in which I operate the control and the uncontrolled. This interest in unpredictability is also related to performances, which is a fundamental feature of my artistic research with experimentation and improvisation in dance.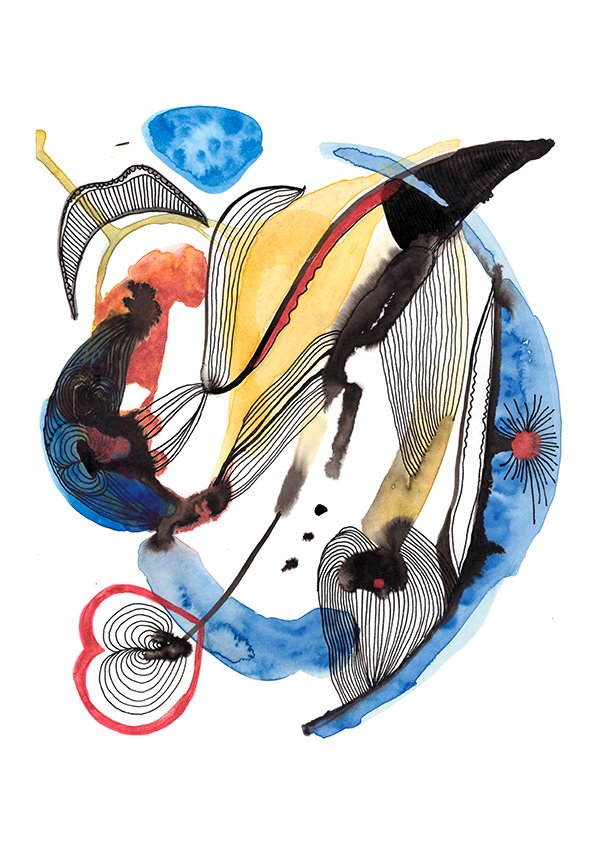 "Balancing the path of the lines in affective relation with the colors"
Yasmim Flores, 2020
"The work has a circular appearance in its configuration. There is a lot of movement in the composition. Shapes constructed by color (watercolor) and by lines (indian ink). The watercolor paint spreads, on the one hand spontaneous by its nature and, on the other, controlled by the artist's desire, therefore, spontaneity, chance, control and tension are issues that permeate this work.
The color in nuances results from intervening layers to, in some places, thicken to certain regions. In the center predominates a yellow shape like a solar core, a seed, a dawn, a latent being that escapes and pierces the night = the cycle of composition.
The parallel lines are visually striated, gridded and well defined in contrast to the color that although its shape is recognizable in parts, its edges and borders are faintly blurred.
There is a marriage of lines and colors and in some regions they are one inside the other. Making the image transit between two or more media generates a transition of greater complexity.
Lines and colors are transformed into an interrelational dance, a compositional complementarity that gives the work harmony and coherence."
Nancy Betts
Curator and Teacher of History of Art at FAAP _Armando Alvares Penteado Foundation - SP, Brazil
"A obra apresenta um aspecto circular na sua configuração. Há muito movimento na composição. Formas construídas por cor (aquarela) e por linhas (nanquim). A tinta da aquarela se espalha, por um lado espontânea pela sua natureza e, por outro, controlada pelo desejo da artista, portanto, espontaneidade, acaso, controle e tensão são questões que permeiam esse trabalho.
A cor em nuanças resulta de camadas interventorias para, em alguns lugares, adensar a determinadas regiões. No centro predomina uma forma amarela como um núcleo solar, uma semente, um alvorecer, um ser latente que escapa e perfura a noite = o ciclo da composição.
As linhas paralelas são visualmente estriadas, gradeadas e bem definidas em contraste com a cor que embora tenha sua forma reconhecível em partes suas bordas e fronteiras estão tenuamente borradas.
Há um casamento de linhas e cores e em algumas regiões elas se estão uma dentro da outra. Fazer a imagem transitar entre dois ou mais meios gera uma passagem de maior complexidade.
Linhas e cores se transformam em uma dança inter-relacional, uma complementariedade composicional que dá a obra uma harmonia e coerência.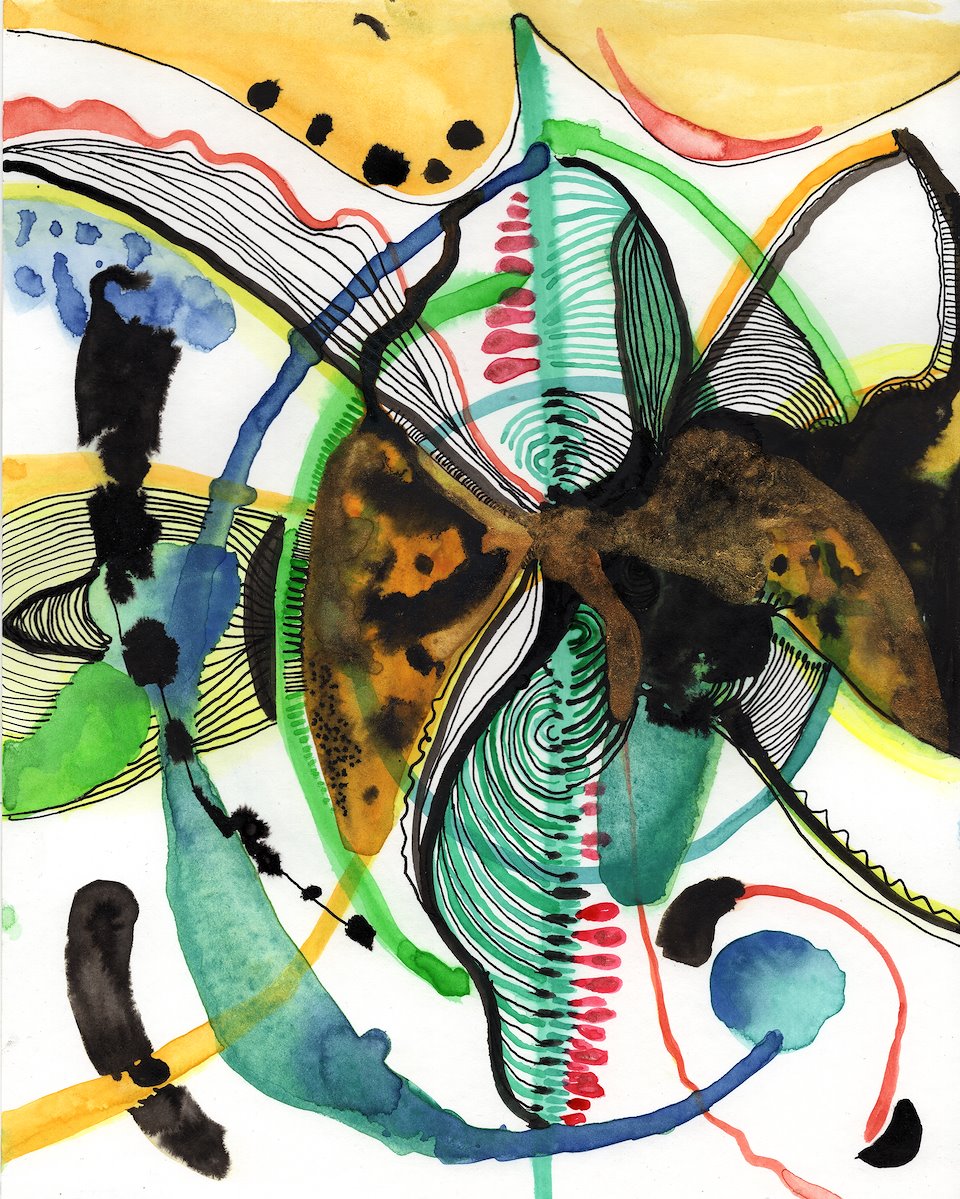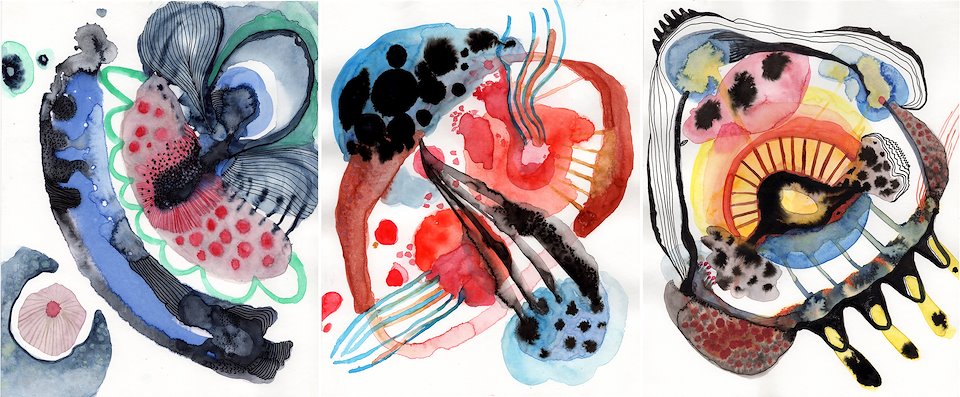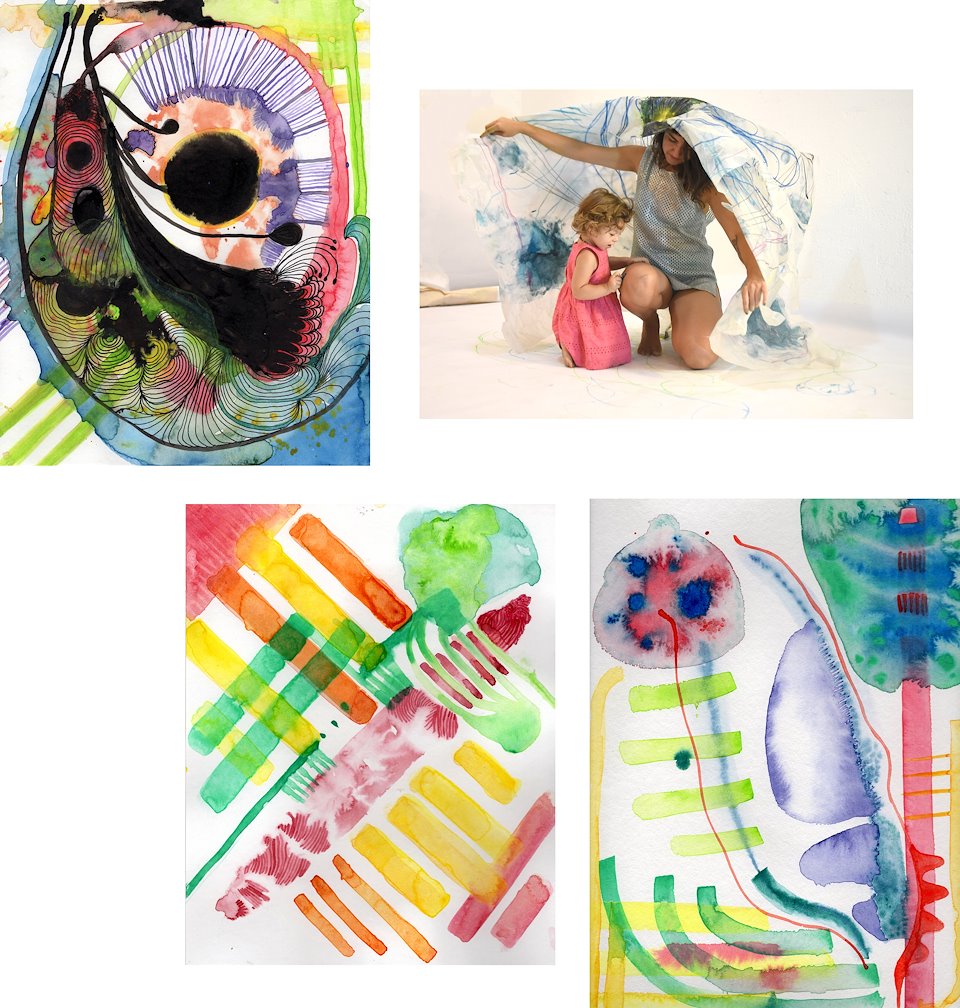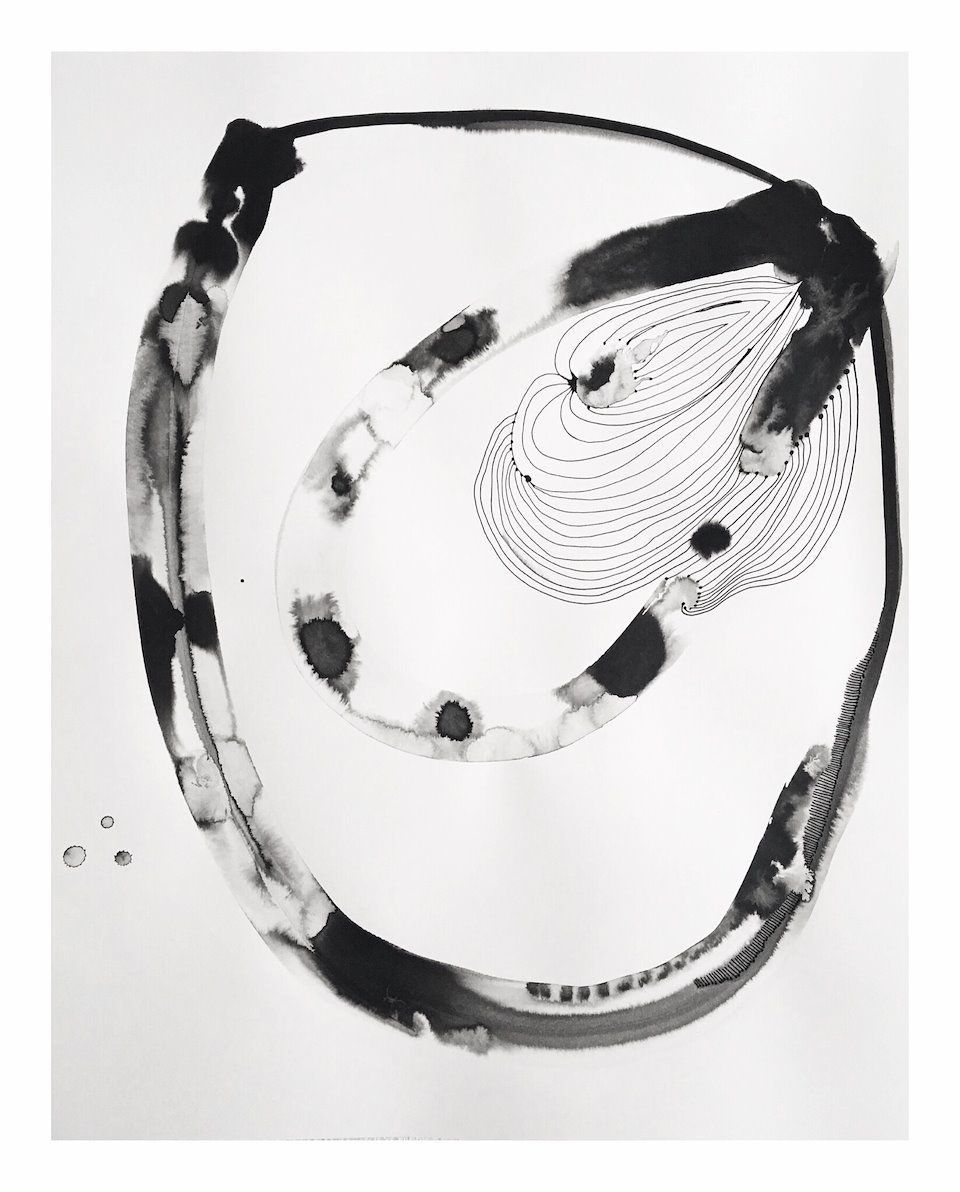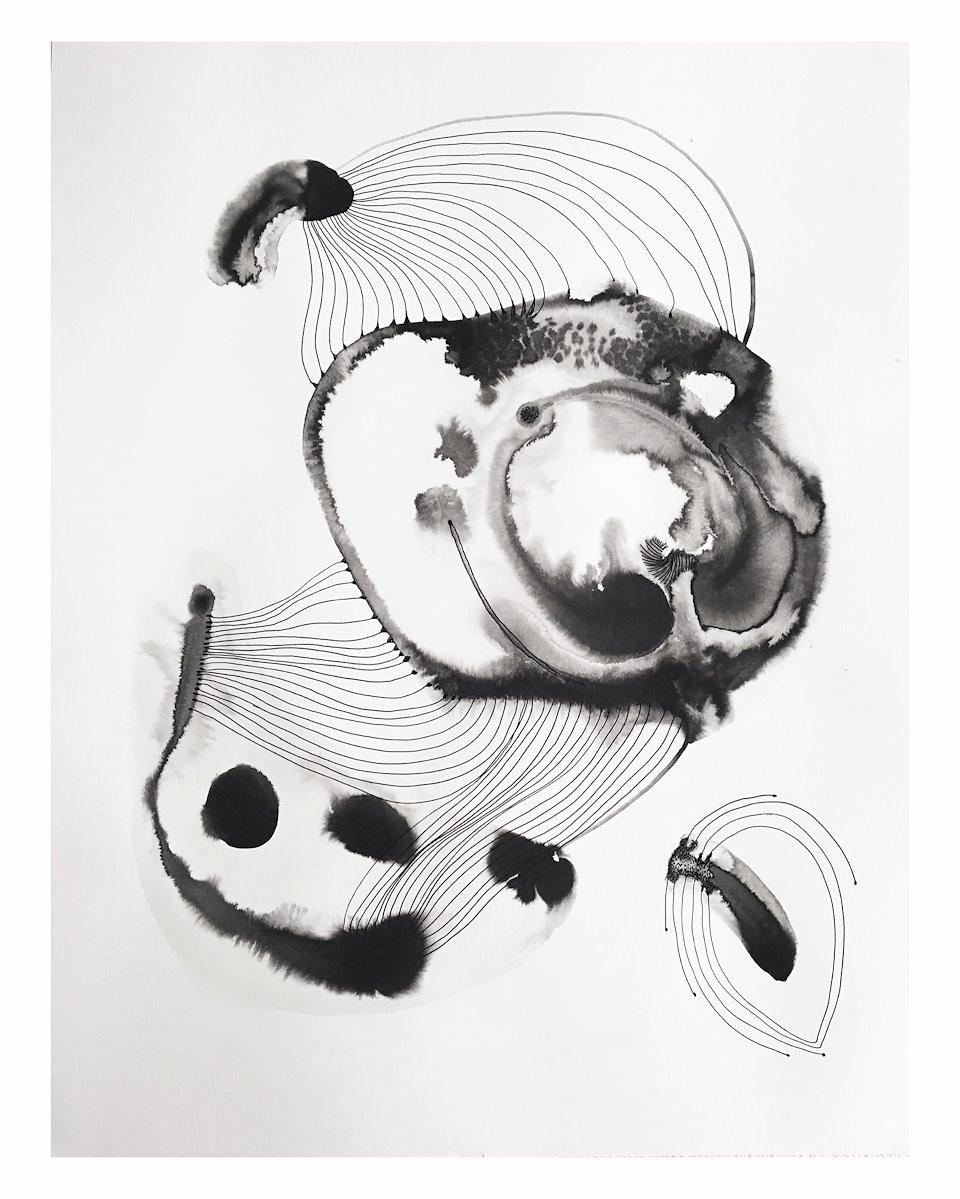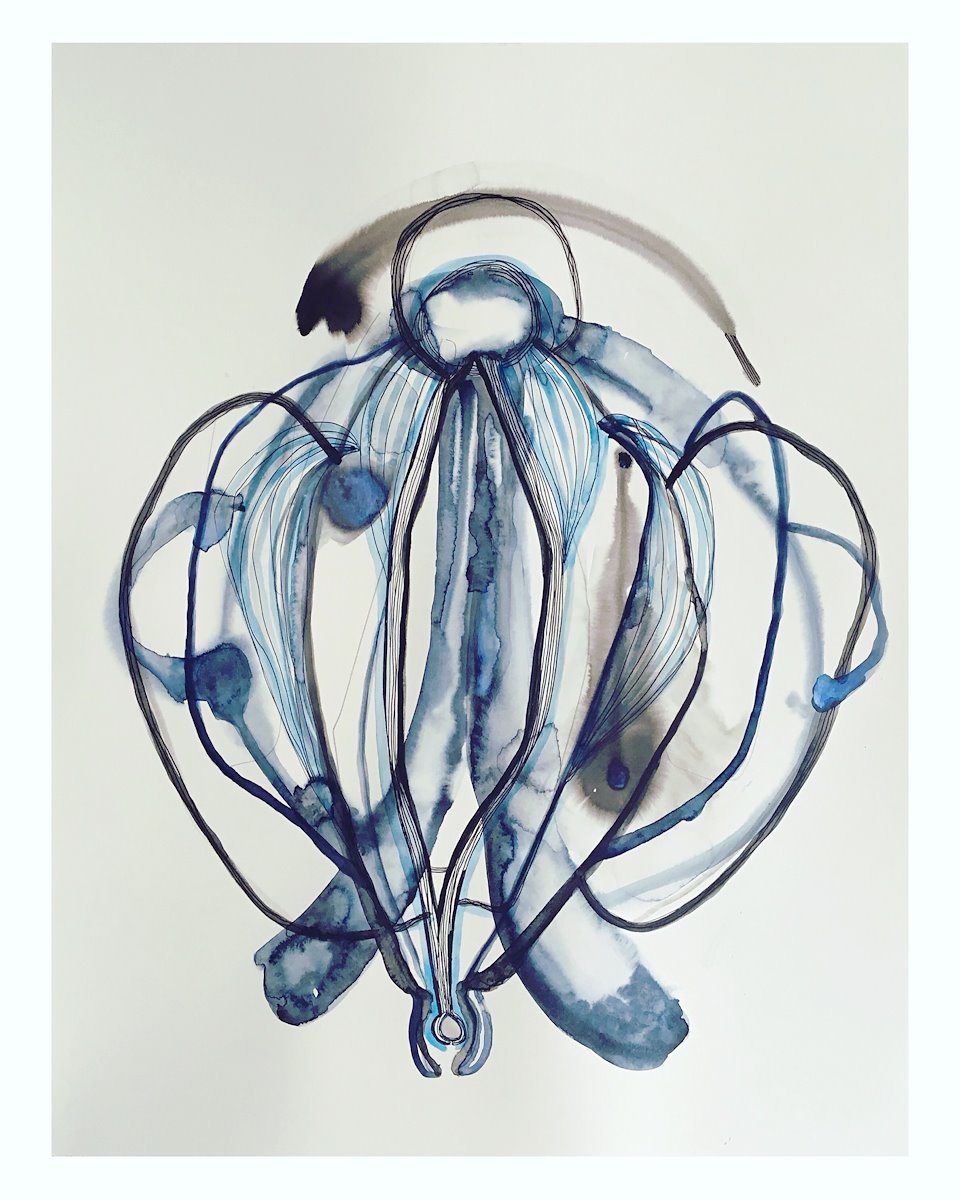 Existe um mundo novo
Nanquim e aquarela sobre papel
2014
Basta ter cor
Naquim, aquarela e lápis sobre papel
2014