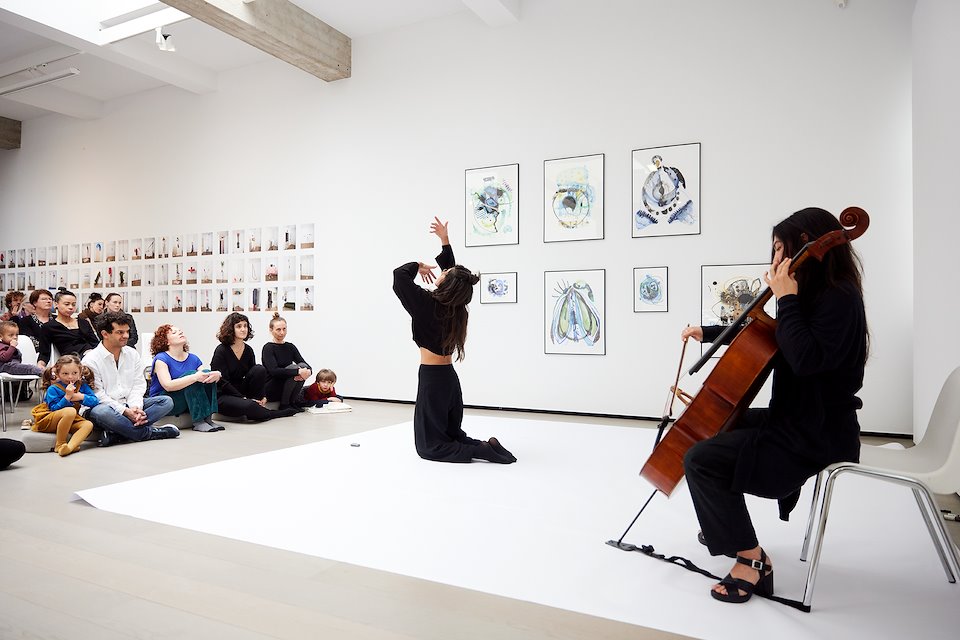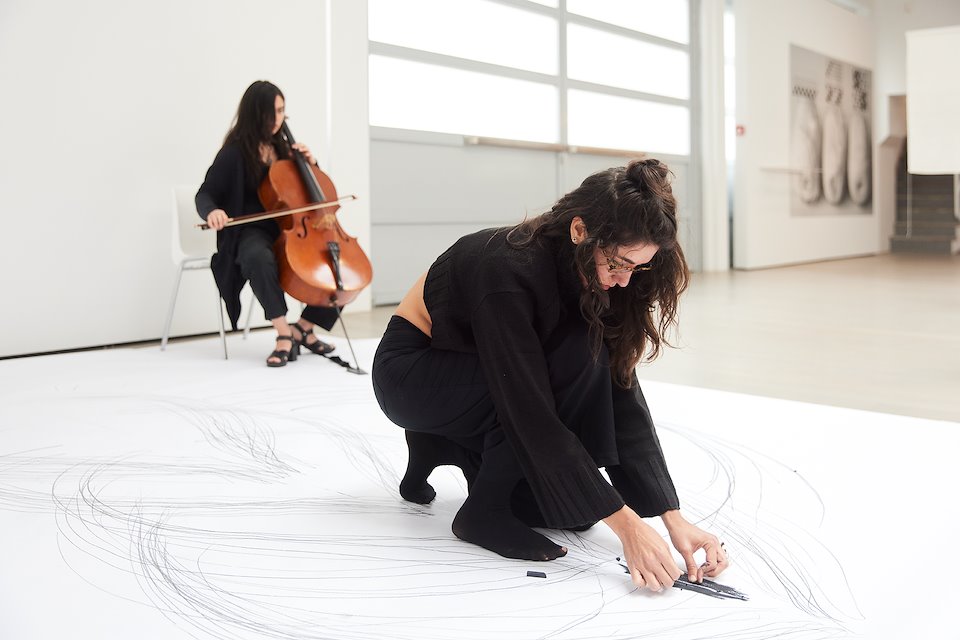 Sintonia (Attunement)
A performance by Yasmim Salim Flores
12th of March 2022 at 03:000pm at Garage Rotterdam
Through body gestures, the performance deepens into the politics of sisterhood and feminine friendships as an agent for social empathy. In a state of diaspora, sprouts out a need for proximity and for a safe space to share experiences of sensitivity, strength, maternity, happiness, sadness, grief, affection, touch, elasticity, and beauty. But how can closeness be realized between strangers? can we take motherhood as a shared ground towards social exchange?
In this performance, artist Yasmim Salim Flores collaborated with a musician Chieko Donker Duyvis as well as other performers.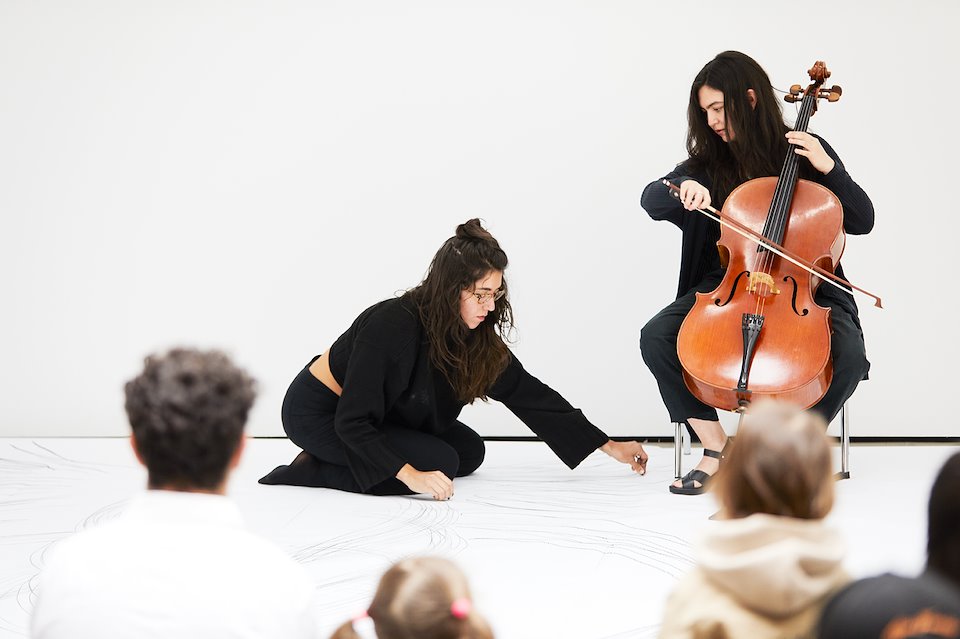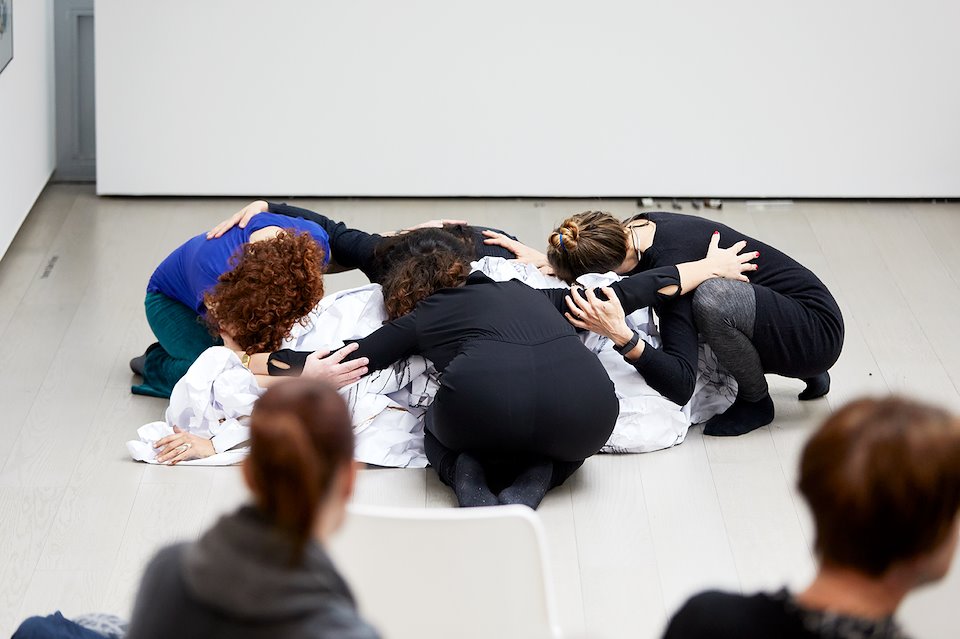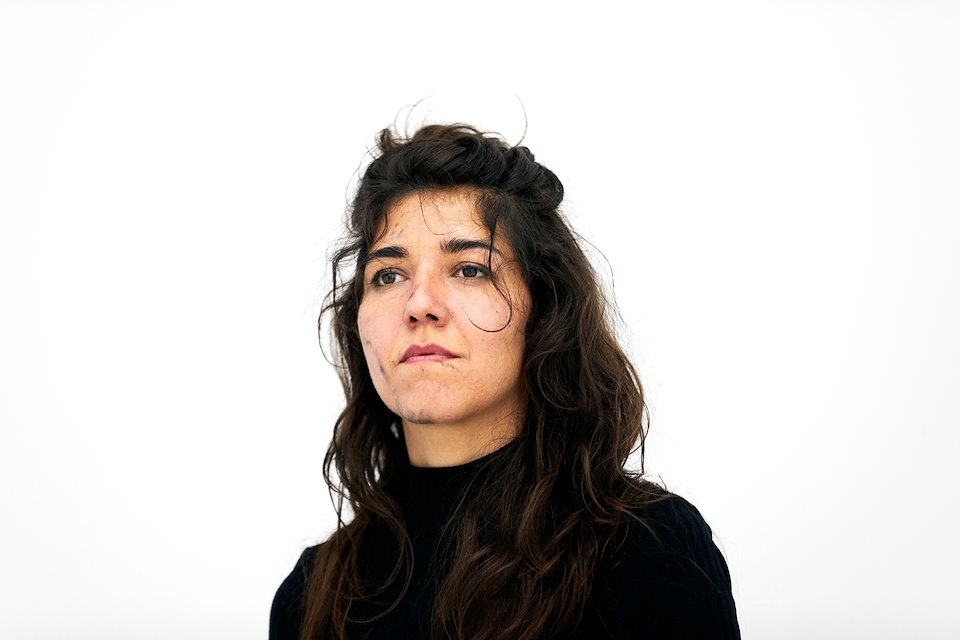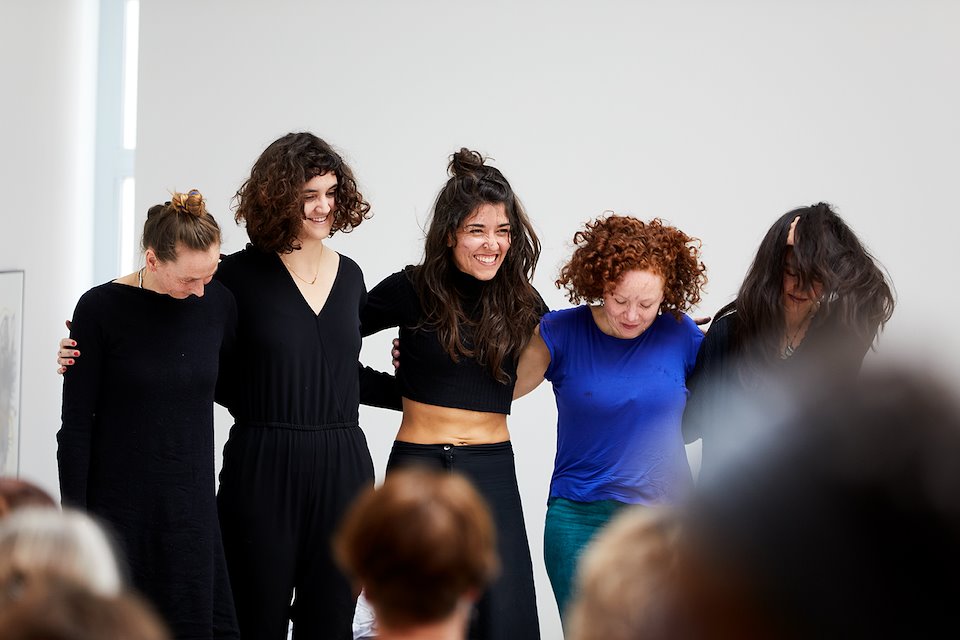 I dedicate this performance to my sister Jadde Salim Flores, my mother Wanderléa, my partner and father of my daughter Angelo Ursini, to all the friendships I made with women who supported and inspired me after motherhood. I especially thank the curator Fadwa Naamna for the invitation to participate in this exhibition. The artists who contributed to this collective and feminine performance, representing the entire clan of important women in my life: Carmen José, Bérénice Staiger and Gabriela Pimentel. Chieko Donker Duyvis for the beautiful sounds and voice. Thiemi Higashi and Elina Banno with their cameras and sensitive eyes. Curator Tanja Baudoin who mentored me when I moved to the Netherlands with a 6 month old baby in 2018 and artist and researcher Deirdre Donoghue for the opportunity to share my creative process and talk at the M/Other voices project in 2019. This experience opened up new perspectives for my journey in a new country. <3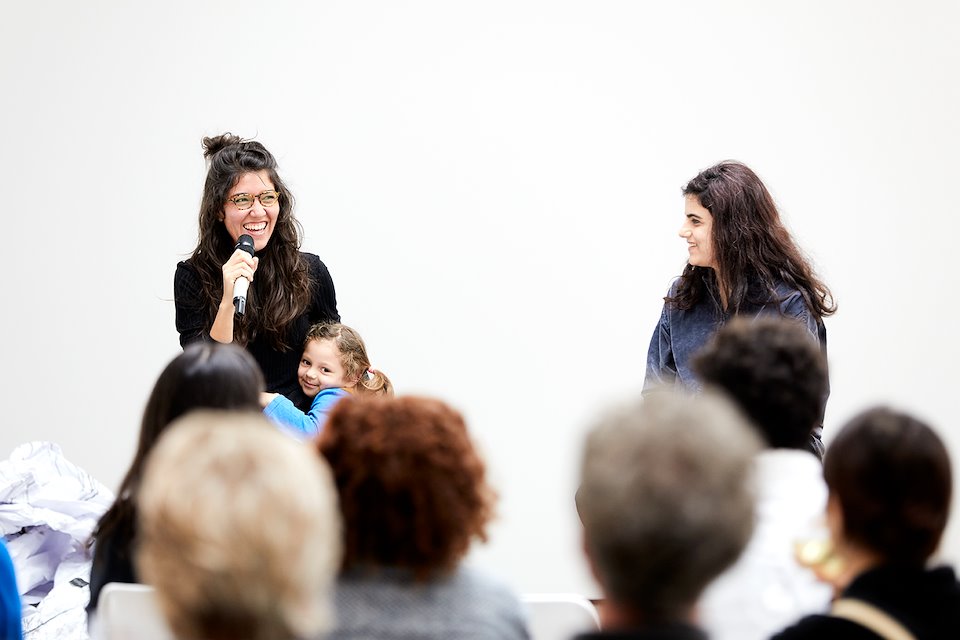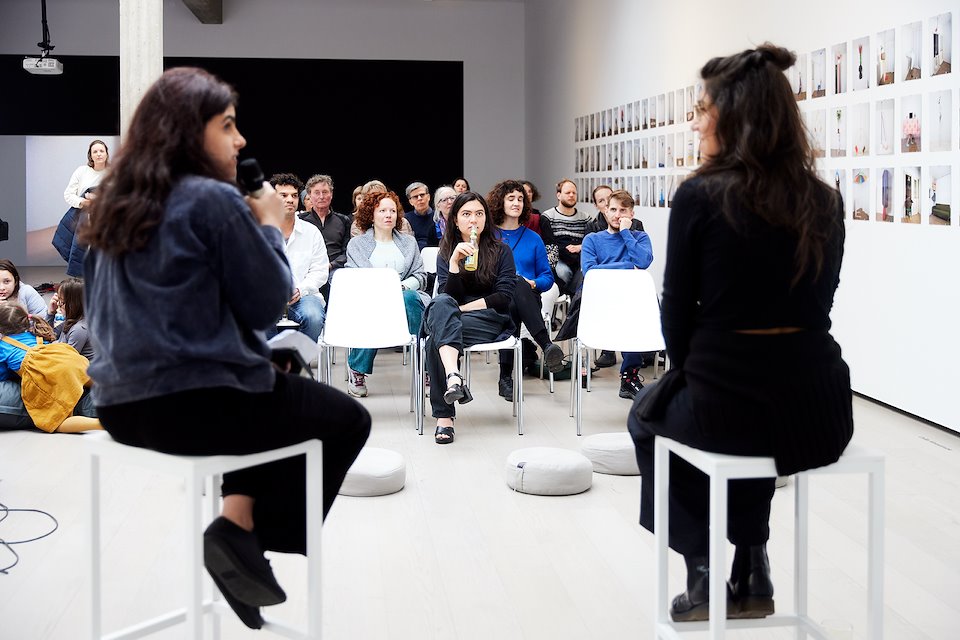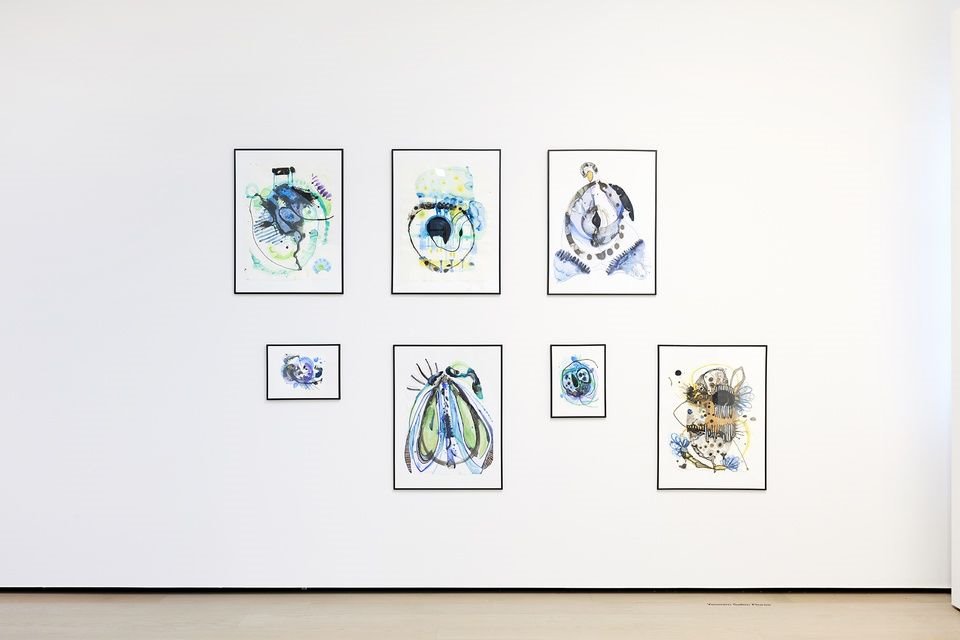 Yasmim Salim Flores
Tuning of watery organisms, 2021
Ink, watercolor and crayon on paper
Tuning of watery organisms is a series of paintings made with watercolor, crayon and ink on paper. The paintings were created shortly after the artist have passed through a miscarriage in 2021. They poetically express the inner world of emotions that a bereaved mother can experience during such a traumatic incident. Through abstract visual depictions of gestures, reproductive organs and breaths، the work deals with the question: how do all these elements move in synergy to create a physical experience of grief and consolation?
The liquidity of the watery colors simulates the flow of feelings and hormones inside a feminine body during pregnancy and miscarriage. Applying various shades of gray and blue insinuates a sense of sadness but also a glimpse of hope whereas the gold color refers to the preciousness of the lost embryo. The intensity of the black contours expresses a state of stress which the artist has been going through before and as a result of this unfortunate loss. For her, the fluidity of the body and brush movements are a way to grieve and an agency of care for one's self and for others.
By Fadwa Naamna
Art curator
ABOUT THE EXHIBITION : Dearest Y
5 February- 17 April 2022 at Garage Rotterdam
How is motherhood valued and positioned in contemporary society and its institutions? Historically, the mother figure has been described, amongst others, as a goddess, as a sacred entity and as a symbol of strength. However, in today's structures there seems to be a persistence on marginalizing the notion of motherhood, despite it being a condition in which everybody directly or indirectly is involved. This persistence is supported by a mainstream belief that motherhood, like other feminist matters, is a personal issue or a mental disruption that needs therapy. In a hyper-capitalist society such a discourse becomes extra problematic as mothers nowadays concurrently carry double burdens: unwaged reproductive labor and domestic housework, as well as having to engage in the productive workforce.
Titled Dearest Y, the exhibition is inspired by the 1960's and 1970's feminist cry "the personal is political", which underscored the connections between the personal experience of motherhood and the broader socio-economic and political systems.
The exhibition brings together paintings, video, textile and mixed media installations. As a group, the works aspire to give a wider picture on how the subjective experience of motherhood reflects and intertwines within the surrounding public structures.